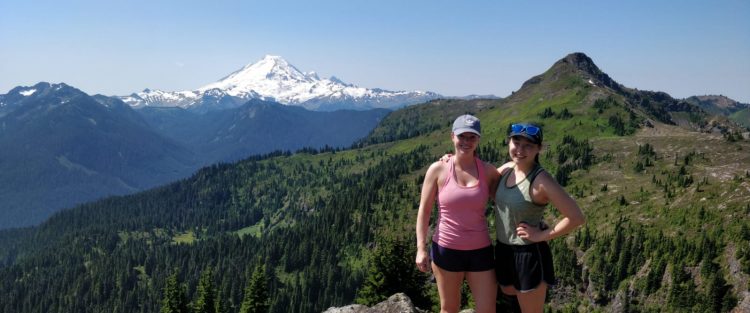 Helpful hints for happy hiking!
What an awesome summer it's been so far and we've still got over 6 weeks to go! Plenty of time to get out and enjoy nature on one of the numerous hiking trails that surround the lower mainland. Before you go, check out my advice below to help keep you hiking injury-free.
#1 Choose your trail wisely
Start off by hiking some of the shorter, easier trails and work your way up to the longer, more advanced trails. Many hiking related injuries happen from doing too much, too soon. Our bodies will adapt to the stresses we put on them but it takes time. You may be tempted by beautiful photos taken on the more difficult trails but remember that those views were earned. Plus, there are many great beginner trails with stunning views of their own. The Vancouver Trails website (www.vancouvertrails.com) is an amazing resource for this as you can sort their list of trails by time, distance, difficulty etc. to help you pick the perfect trail for you!
#2 Wear appropriate footwear
Running shoes were designed for running, so unless you are specifically on a hard-packed, flat trail you need to invest in some hiking boots or trail runners. Footwear designed for hiking will be more durable, have better ankle support, and provide better traction. This will help prevent minor aches and pains from stepping on sharp rocks, to major injuries that can occur when rolling an ankle or slipping and falling. Getting injured anywhere is no fun, but on top of a mountain has to rank among the worst places. Oh, and be sure to break in your new footwear beforehand because blisters are no joke!
#3 Stay hydrated
I cannot stress the importance of staying hydrated while hiking enough; especially in the warm weather we've been having recently. Dehydration causes all kinds of symptoms including headaches, dizziness, fatigue, and muscle cramps. In this state you are also more prone to slips and falls. Proper hydration should start before your activity and continue after it's over. Always pack more water than you think you'll need because you often won't have access to clean drinking water until you are back home. It is also important to replenish lost sodium and other electrolytes so be sure to pack some healthy snacks as well.
#4 Avoid knee pain on the descent
Although hiking uphill can be challenging, it's downhill that causes the most loading on our joints. It is very common to experience some level of knee pain when hiking downhill. One technique to help mitigate this is side stepping, especially down large drops. Be sure to descend slowly and absorb the impact with a slightly bent knee rather than a fully extended leg. Hiking poles can also help to redistribute some of the load onto your upper body. Mostly importantly, the stronger your leg muscles are prior to hiking the less likely you are to end up with injuries so adding in some basic strength training (think squats, lunges, bridges) to your weekly exercise routine can be a tremendous help.
Sometimes even the best-laid plans go awry, so if you do end up with any post-hiking pains be sure to visit us in clinic and we will get you back on the trails in no time.
Happy hiking!
Mandi Lamanes, MPT, Bkin
Physiotherapist